Intelligence and insights for the smart-home industry
June 2023
Welcome to Plume IQ, our reveal of data-driven intelligence and consumer insights from more than 2.5 billion connected devices, and over 55 million locations, managed by Plume's cloud platform.
Critical WiFi optimizations soar by 20.9%
Plume's algorithms perform several types of WiFi optimizations. One of the most important, called 'fast interference optimization,' reacts in real-time to resolve critically high levels of interference that can affect the consumer's quality of experience.
Our latest study of Plume-powered households showed that fast interference optimizations are needed approximately ten times per month, per home, or once every three days. The frequency of such interference-reactive optimizations is growing significantly—globally, optimization by Plume's algorithms has increased by 20.9% (when comparing 2H 2021 to 2H 2022), indicating that home networks are becoming increasingly congested.
As consumers move towards more data-hungry apps and services—including 4k streaming and virtual reality—the 5 GHz band is becoming more crowded. Our analysis revealed a 21.1% increase in fast interference optimizations in the 5 GHz band compared to 19.9% growth in the 2.4 GHz band. Thankfully, the introduction of the 6 GHz spectrum offers more capacity for intelligent WiFi management.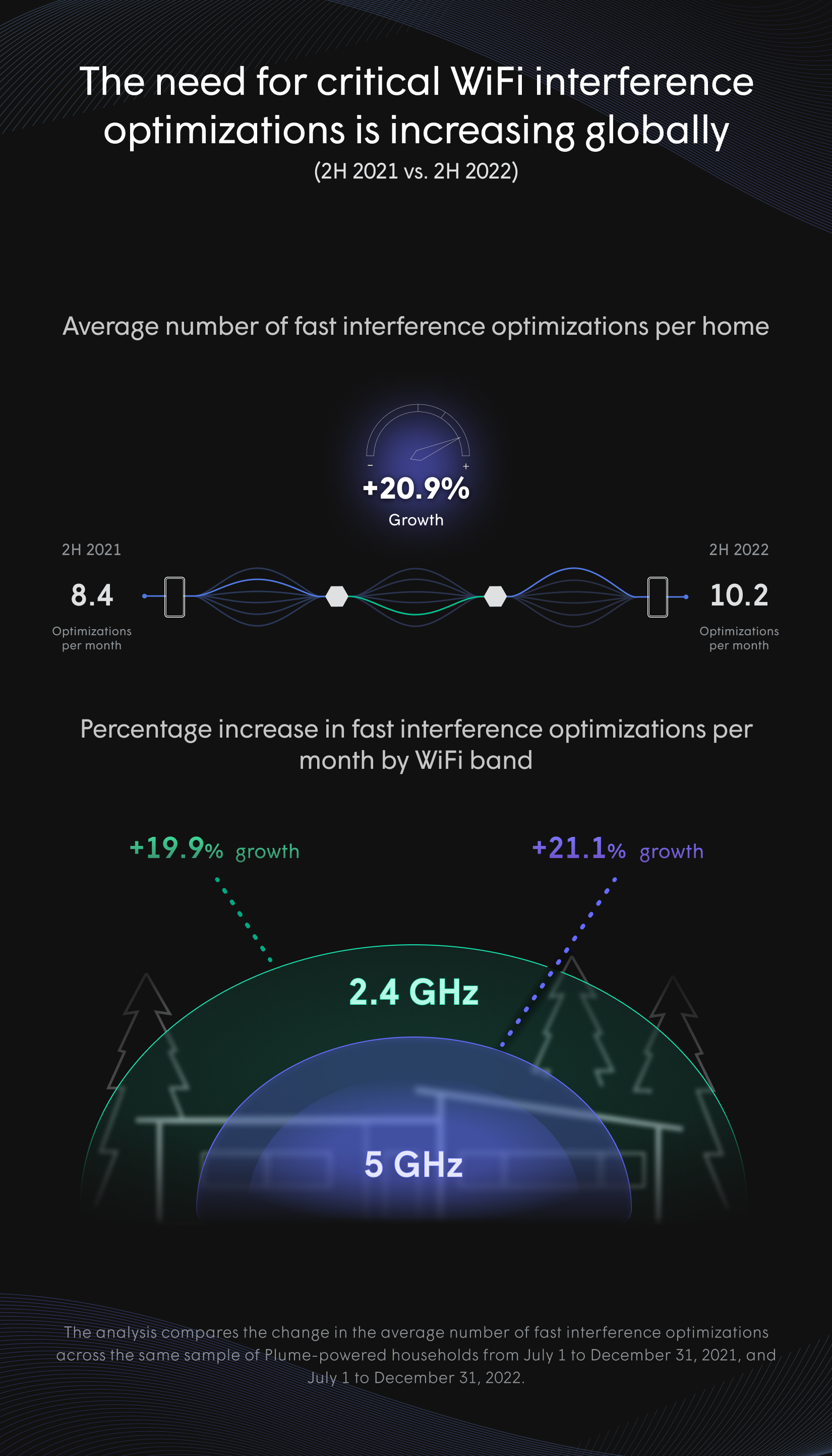 Other Plume News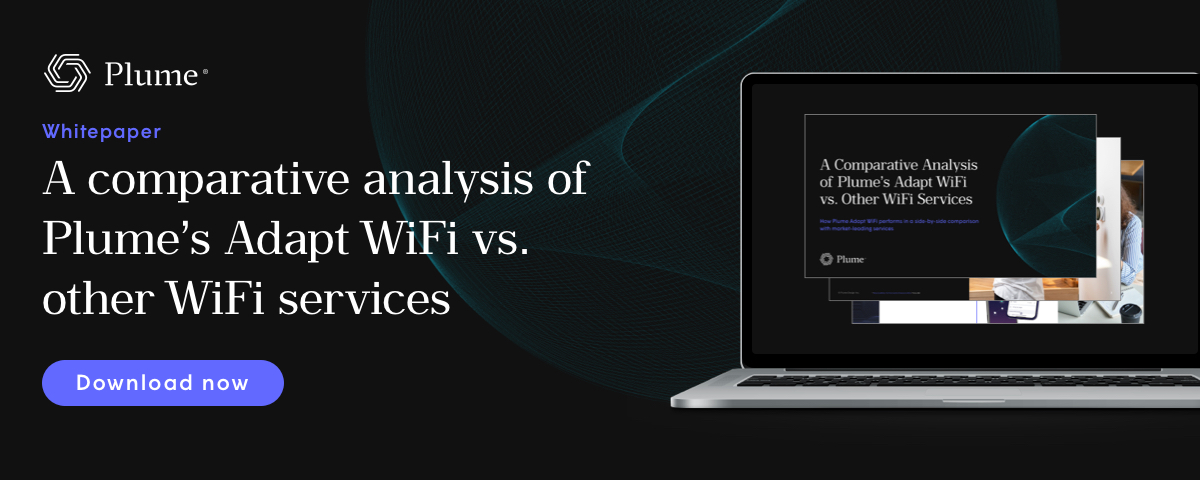 Adapt: tackle interference head on
We believe Plume's cloud-based Adaptive WiFi service provides the highest-performing and most reliable connectivity solution on the market. To support this claim, we developed a comprehensive set of test cases based on the quality of user experience to gauge how Adapt performs against other popular WiFi solutions.
Download now >

Impressive growth for Cablenet
At a recent press conference in Nicosia Cablenet's CEO, Yiannos Michaelides, revealed impressive business results underpinned by its partnership with Plume. While competitors focused on selling broadband speed at discounted prices, the company has successfully pivoted to deliver premium subscriber experiences by bundling HomePass into its core offering.
Read the press release >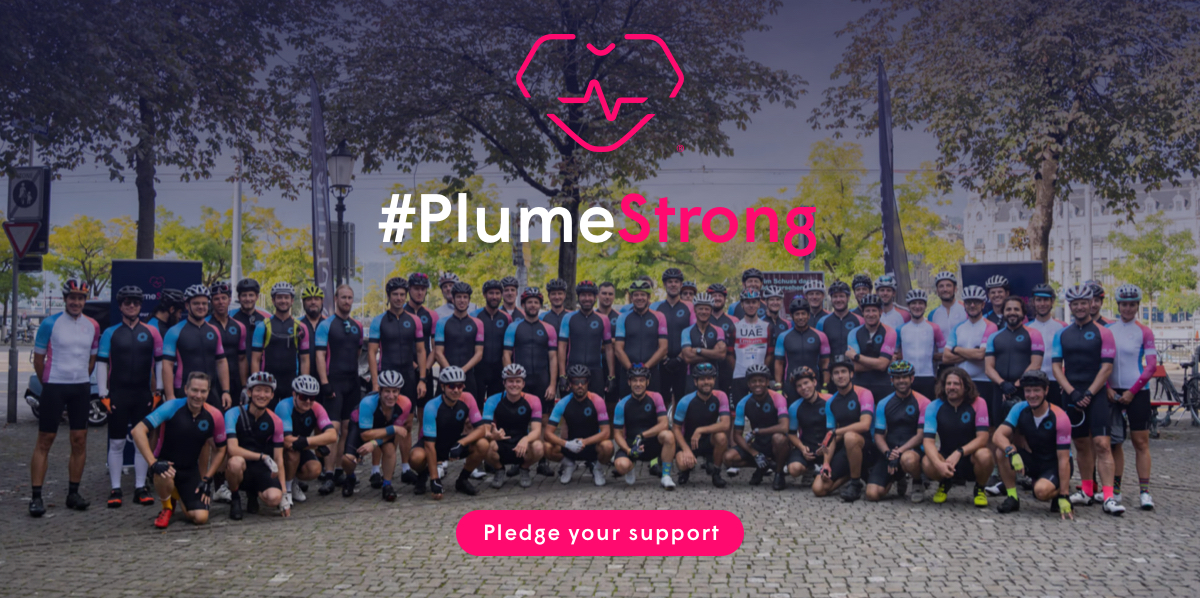 Ride with Pogačar at #PSCC23
Grab your helmet and jump on your bike as this year's #PlumeStrong Cycling Challenge kicks off in just a few months! We're raising funds to build an entire school to support Turkish children affected by the devastating earthquakes in February. Two-time Tour de France winner and #PlumeStrong ambassador, Tadej Pogačar, will join the ride on stage 5.
Pledge your support >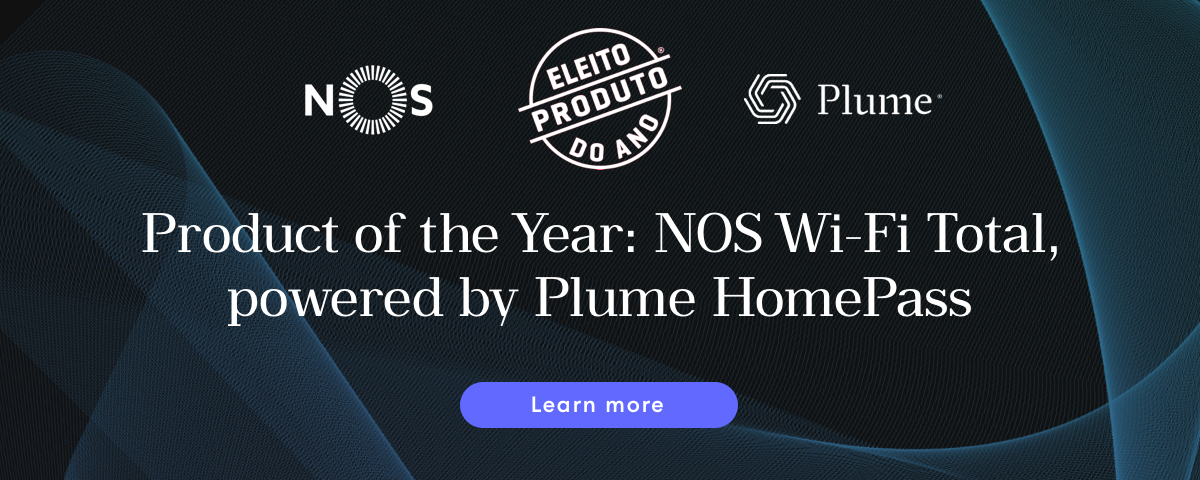 Obrigado! Obrigado! Obrigado!
Kudos to our Portuguese partner NOS who secured a coveted Product of the Year Award for the third time. The judges highlighted that its Plume-powered product "uses state-of-the-art equipment with intelligent WiFi that adapts to each person and optimizes internet performance so that everyone can do what they love most."
Learn more >

News round-up
Evolution Digital has expanded its range of OpenSync-certified products with a brand new WiFi 6E access point that runs both HomePass and WorkPass services.
Read the article >
Reporting on Cablenet's strong business results, Cyprus Business News said that the company's collaboration with Plume had "disrupted the telecoms market."
Read the article >
Allion Labs has been appointed to provide third-party integration and certification for OpenSync. A move that will speed up the deployment of Plume's platform and cloud services.
Read the press release >