Plume Advances Personalization and Control for Consumers
Posted 10/24/2023, 7:00 AM
— New HomePass features empower consumers to prioritize the throughput of the applications, devices, and people that are most important to them at any time —
NETWORK X, PARIS – October 24, 2023 — Network services and consumer experience pioneer Plume® has introduced new AI-driven personalization features within its HomePass® app. The company's Founder and CEO, Fahri Diner, will welcome this new era of user control in a headline keynote at Network X on Wednesday, October 25 at 9:50 AM CEST.
App Priority from Plume allows users to prioritize their own application-level traffic and ensure peak performance via a number of options: through general application categories across the home, through applications running on individual devices, or through applications being used by specific people on the WiFi network. Plume is also introducing a first-of-its-kind Security Boost feature that enables users to automatically prioritize network traffic for home security devices and applications when away from home or when the household is asleep.
These new developments are the consumer-facing features of Plume's recently announced Full Stack Optimization. Full Stack Optimization added the sophistication of application awareness needed to identify, measure, and prioritize application traffic flows. Plume expects to roll out the new features globally via the Plume HomePass app beginning in the first quarter of 2024.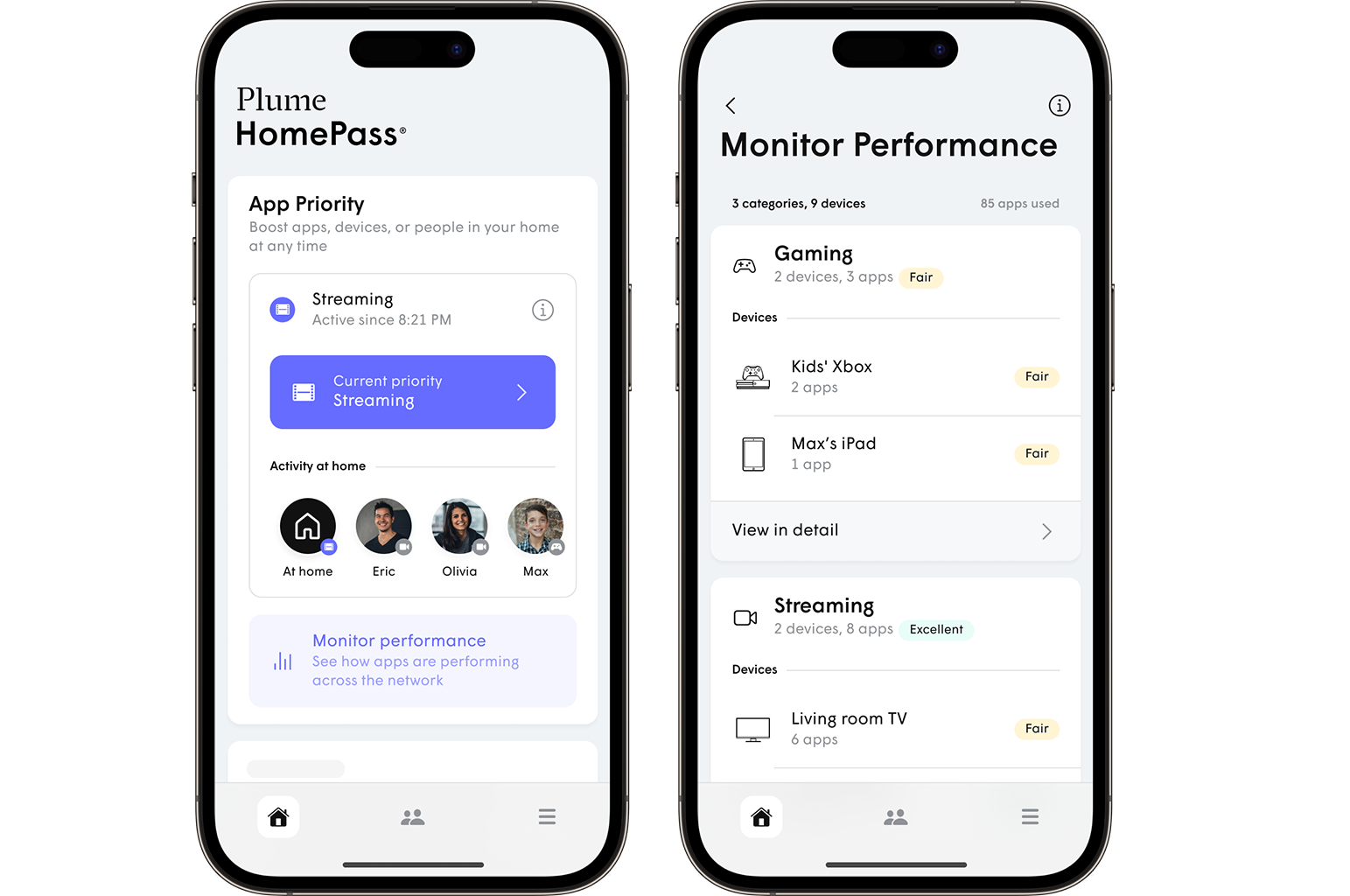 Key User Benefits:
App Category Priority—Users can boost the throughput and performance of bandwidth-intensive Gaming, Streaming, Video Calling, or Home Security app families across all devices and people in the home.
Device Priority—Throughput to apps running on specific devices can be prioritized for increments of one hour, end-of-day, or indefinitely.
People Priority—Application flows for the devices assigned to a specific user profile can also be prioritized for increments of one hour, end-of-day, or indefinitely. 
Home Security Boost—By combining App Category Priority with Plume's Sense™ service—which uses WiFi signals to detect movement and track each user's primary device inside the home—consumers can opt into "Away Mode" which will trigger the HomePass app to automatically boost throughput for home security devices and their associated apps when the home is empty or inactive.
Dynamic traffic prioritization—In each case, non-urgent traffic, such as software updates, is deprioritized to reduce interference with real-time applications to bring additional optimization of the home network.
Monitor app performance—Users can monitor each app family's performance rating on a scale of excellent, fair, or poor to gain visibility into the home network, make decisions around what to prioritize, and verify their boosts are achieving better connectivity.
The new controls are entirely optional—Users can choose to allow Plume to optimize performance based on its AI-driven algorithms via the default Automated Mode. Plume's adaptive WiFi intelligently monitors the home network and tunes it for optimal performance based on multiple factors including usage patterns, load, and interference.
Efficient and proactive support—The new prioritization-based feature set presents an opportunity for service providers to improve customer support. Application category-, device-, and people-level insights available through Plume's Haystack® Support Suite can enable service providers to diagnose and resolve network performance issues more rapidly, leading to reduced support calls, improved customer satisfaction, and reduced churn.
"Consumer experience is the new currency for the modern service provider," said Michael Philpott, Research Director at Omdia. "The days of focusing marketing campaigns on speed and price are numbered—our research shows that consumers now value experience over all else. This new development will bring them greater control over their in-home device and application experiences."
Media and analyst inquiries: