#PlumeStrong Cycling Challenge 2023 Raises €550,000 to Benefit Children Affected by the Turkey-Syria Earthquake
Posted 09/21/2023, 1:00 PM
— The funds will help build a school in one of the areas worst affected by the devastating earthquake that hit Turkey and Syria in February 2023  —
PALO ALTO, USA & ZURICH, SWITZERLAND, September 21, 2023 — Network services and consumer experience pioneer Plume® recently completed its third annual #PlumeStrong Cycling Challenge, a five-day ride across the arduous mountain passes of Switzerland and France. Employees from Plume and its partners were joined by Tadej Pogačar, a two-time Tour de France winner and currently the No.1 ranked cyclist in the world by the Union Cycliste Internationale (UCI), and collectively raised over €550,000 to surpass the initiative's target of €500,000.
All of the funds raised will help provide vital educational support to children affected by the earthquake that hit Turkey and Syria in February 2023. Using these funds—more than double last year's event—#PlumeStrong will help build a school in one of the most impacted regions in the area.
Founded in 2020 as an initiative to encourage Plume's employees to stay mentally and physically healthy during the global COVID-19 pandemic, #PlumeStrong is now the foundation of Plume's corporate social responsibility program. At last year's #PlumeStrong Cycling Challenge, 50 riders, including Plume's employees and partners, cycled 675 kilometers through the Swiss Alps, raising €250,000. All funds were donated to provide safe spaces, called Inclusive Learning Hubs, for refugee children in Ukraine and Moldova through the non-profit organization Street Child.
Building on the success of the 2022 edition, Plume has continued its partnership with Street Child and welcomed established telecom companies Liberty Global and Sagemcom as lead Corporate Tier Partners. Following the conclusion of this year's ride, Plume hosted a special 'Ask Me Anything' session featuring its Founder & CEO, Fahri Diner, Tadej Pogačar, and CEO & Vice Chairman of Liberty Global, Mike Fries—watch the video recording here.
Cumulatively, Plume's riders who took part in the Cycling Challenge completed:
Distance: 19,090 kilometers; nearly halfway around the world.
Elevation gain: 325,017 meters; the equivalent of climbing Mt. Everest 36 times.
Saddle time: 849 hours and 57 minutes; the equivalent of riding for 35 days, 9 hours and 57 minutes.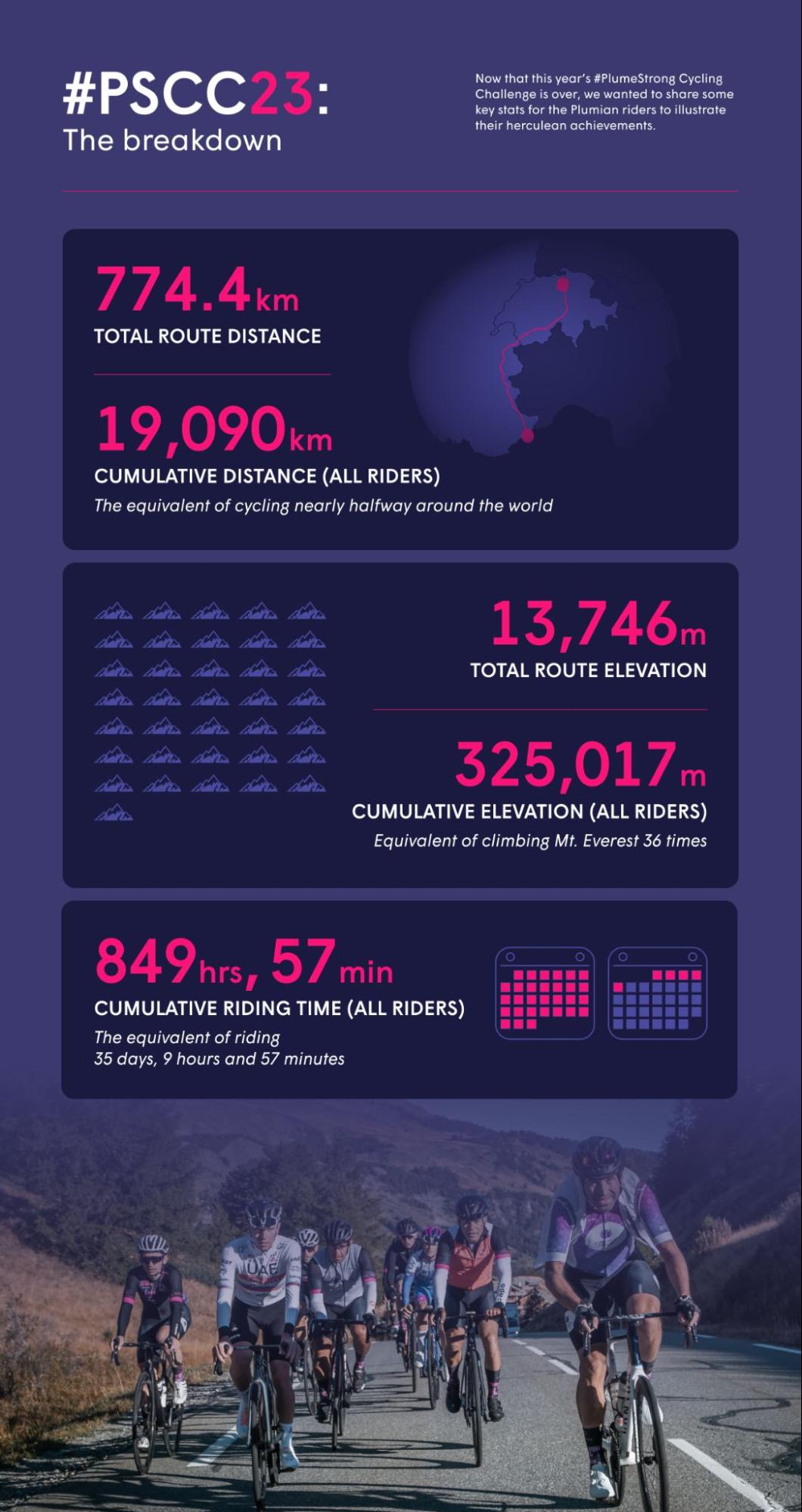 "Following the resounding success of #PSCC22, we set a goal to double the funds we raised—I'm thrilled by the collective commitment shown by our riders, Plume employees, and partners, including professional cyclist Tadej Pogačar, who have come together to exceed our goal," said Fahri Diner, Founder & CEO of Plume. "Through their efforts, and by building a school, we can provide access to safe education and help communities rebuild following the devastating Turkey-Syria earthquake."
Tadej Pogačar is currently ranked the number one professional cyclist in the world by the sport's governing body, the UCI, and is one of the most successful professional cyclists of the modern era. He won the 2020 and 2021 editions of the Tour de France, becoming the first to win three different jerseys in consecutive Tours in nearly four decades.
"In the hectic world of professional cycling it's important for me to find time to give back to young people who have experienced a great deal of suffering in their lives," said Tadej Pogačar. "I was honored to ride again alongside Plume's employees and its partners to promote such a worthy cause. I am delighted that we exceeded the fundraising expectations and can contribute to making a big difference to families rebuilding their lives."
"PlumeStrong is really aligned with what matters to us which is helping great organizations that are changing the world—especially for children—which is what we are doing here. We're thrilled to be part of it," said Mike Fries, CEO & Vice Chairman of Liberty Global.
Plume would like to thank all of its partners who helped make this year's event a success and contributed to exceeding the fundraising goal: Liberty Global, Sagemcom, Skipstone, Greenberg Traurig, Polka Dot Cycling, Wilson Sonsini, Fried Frank, GoGlobal, SifizSoft S.A., Jackson Square Ventures, Spectrum, Agencija Oskar, AlpeAktiv, Akin, MSK, Brown & Brown, Service Electric Cablevision, Extreme, Bob Gold & Associates, Broadband Networks, Goldman Sachs Gives, National Content and Technology Cooperative, One Digital, TorTour, Cablenet, Cognitive Systems, Hewlett Packard Enterprise, BrightCloud by OpenText, J.P. Morgan, Shift integracije, Smart Homes, PwC, Amazon Web Services (AWS), Silicon Valley Bank, Nasdaq, MET, Colnago, and Nduranz.
Save the date: The PlumeStrong Cycling Challenge 2024 (#PSCC24) will take place from September 2 through September 6, 2024.
About #PlumeStrong
Headquartered in Silicon Valley with offices worldwide, Plume creates delightful experiences that help consumers thrive in their ever-changing digital lifestyles. #PlumeStrong began during the early days of the COVID-19 pandemic as a fun, action-oriented initiative to help the company's employees stay physically and mentally well through exercise. Today, we serve our global community through the #PlumeStrong initiative—our social impact balance sheet—committed to driving positive change across five pillars: health & wellness, education & equality, planet & climate, science & technology, and security & privacy.
Visit plumestrong.plume.com.
Follow on LinkedIn and Twitter.
About Plume
Plume® is the creator of the world's first SaaS experience platform for Communications Service Providers (CSPs) and their subscribers, deployed in more than 50 million locations globally. As the only open and hardware-independent, cloud-controlled solution, Plume enables the rapid delivery of new services for smart homes, small businesses, and beyond, at massive scale. On the front end, Plume delivers self-optimizing, adaptive WiFi, cyber-security, access and parental controls, and more. CSPs get robust data- and AI-driven back-end applications for unprecedented visibility, insights, support, operations, and marketing. Plume leverages OpenSync®, an open-source framework that comes pre-integrated and supported on the leading silicon, CPE, and platform SDKs.
Visit plume.com, plume.com/homepass, plume.com/workpass, plume.com/uprise, and opensync.io.
Follow Plume on LinkedIn and Twitter.
Plume, OpenSync, WorkPass, HomePass, Uprise, Adapt, and Haystack are either trademarks or registered trademarks of Plume Design, Inc. Other company and product names are used for informational purposes only and may be trademarks of their respective owners.
Media contacts
Europe:
Paolo Gattavari, AxiCom
[email protected]
USA:
Andrew Laszacs, Bob Gold & Associates
[email protected]