News
HomePass®: Bringing all of our services under one roof
by Plume Marketing Team
November 2020
Over the past few years, we've been working day and night to build the revolutionary smart home services you've come to know and trust. As the breadth of our offering grows, it's the right time to bring everything together under one name. We sought a name that truly reflects the experiences we deliver to you today, and also encompasses all of the services we'll be bringing to you in the future. Meet HomePass.
HomePass: where all your services live
To make life easier, all your services – and our app – now live under the HomePass name. Here's how we've organized them:
Control: Guest access and parental controls
Adapt: Intelligent, self-optimizing WiFi
Guard: AI-based security to protect the people and devices in your home
Sense: Whole-home awareness, including WiFi motion detection
In the coming days, we'll be implementing some new branding throughout our website and products. This new visual design will make it easier for you to see additional services at a glance and, hopefully, make it even easier for you to get the most out of Plume and your smart home. (Check out our new look right here at home.)
A track record of adding services to your membership
Since we launched in 2016, we've been focused on developing an innovative, self-optimizing home WiFi technology that's built around the way you live, work, and play. As we look to the future, take a walk down memory lane with us by checking out some of the new services we've added to your membership over the years: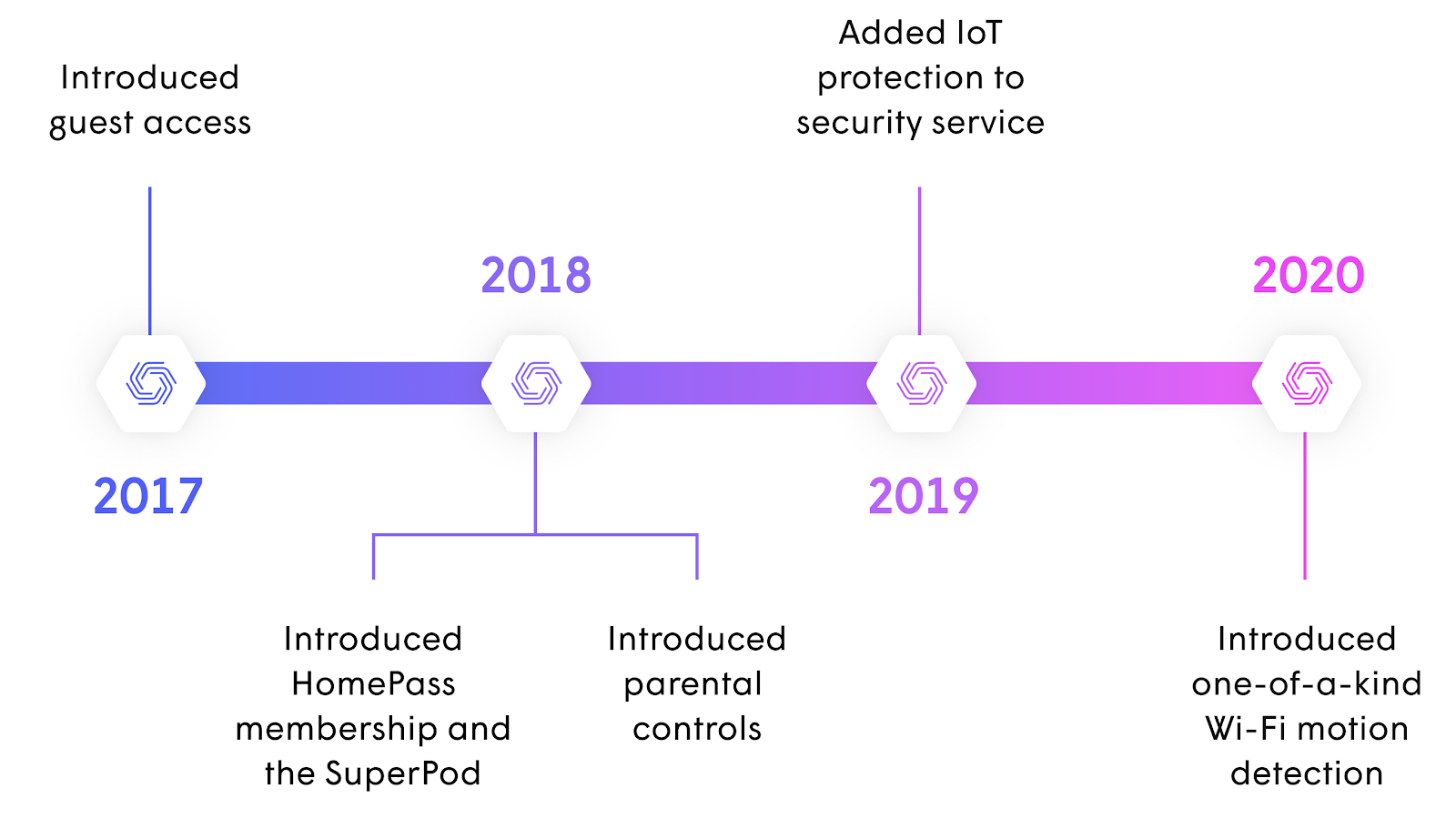 The best is yet to come
Like life, HomePass is constantly evolving. Since our members receive cloud updates with new features as they're released, your smart home experience automatically evolves with us. Watch out for new services around digital wellness, a web-based app, and even an expanded, personalized monthly report in the near future. Rest assured, while the smart home services you've grown to love now live under a new name, your settings will stay exactly as you like them. The high-quality connectivity and customizable features you rely on haven't changed and our passionate team of knowledgeable customer support professionals are still here 24/7 to answer questions or troubleshoot issues. From all of us at Plume, we look forward to the exciting next chapter of our journey, and we're glad to have you along with us as a part of the HomePass family.