Intelligence and insights for the smart-home industry
February 2019
Welcome to Plume IQ, our reveal of data-driven intelligence and consumer insights from more than 2.5 billion connected devices, and over 55 million locations, managed by Plume's cloud platform.
Roku catches up to Amazon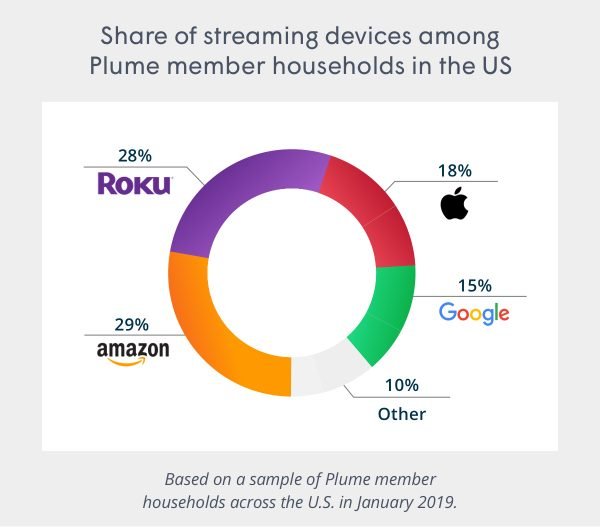 Among the four most popular streaming device makers for the U.S. market in January 2019, Amazon and Roku are separated by a single percentage point. But Plume's proprietary data on device connections foreshadowed something interesting: Roku grew nearly 40% in Q4 2018.Most industry observers see streaming devices surging in popularity as another 3.2 million people cut the cord in 2018. In fact, nearly one-third of all Plume U.S. households now have a streaming device connected to their Wi-Fi network.
Plume goes live with TalkTalk (UK), Tele2 (Netherlands), C3 Pure Fibre(Caymans)
As TV streaming transforms home entertainment, internet service providers need new features and services to maintain a market edge. Three launches in three weeks showcased Plume's ability to support rapid rollouts of personalized service bundles. Consumers in the U.K., the Netherlands, and the Cayman Islands now have access to Plume's comprehensive membership and service bundle through TalkTalk , Tele2 , and C3 Pure Fibre . And we're not stopping there. Melita Italy just announced that Plume is central to its expansion plans across the peninsula. The ability to offer Plume memberships positions these providers as leaders indelivering modern in-home services built on top of reliable Wi-Fi.
Welcome 'Plume Secure & Protect'
Security concerns are among the top threefactors that influencea consumer's smart product purchase, according to research from TraQline's 2019 smart-home survey. Plume members connect an average of 20 devices to Wi-Fi in each household. The number is primed to skyrocket as IoT brands release multitudes of new devices monthly. It's no wonder that service providers are seeking comprehensive yet easy-to-deploy solutions that address customers' concerns. Plume security expert Susmita Nayak explains how Plume's cloud-based approach offers a device-agnostic solution that's scalable, convenient, and super-easy to use. She highlights the features and benefits of Plume Secure & Protect, the latest addition to Plume's expansive modern services bundle.

Meet Plume leaders at MWC, Cable Next-Gen Technologies & Strategies
Plume is hitting the road and ready to discuss your cloud-driven services future. First stop: MWC in Barcelona Feb. 25-28. Explore leading-edge tech with Plume experts and leaders. Next up: Cable Next-Gen Technologies & Strategies in Denver Mar. 13-14. Plume co-founder and VP Product Adam Hotchkiss will join industry leaders to plot an expanded in-home services-driven future for cable MSOs. To catch Adam, or to request a meeting at any of our events, let's connect.