Intelligence and insights for the smart-home industry
April 2023
Welcome to Plume IQ, our reveal of data-driven intelligence and consumer insights from more than 2.5 billion connected devices, and over 55 million locations, managed by Plume's cloud platform.
Data usage soars by more than 16% per day
Our latest study of HomePass-powered smart homes reveals that consumers' appetite for data is growing every day of the week, putting additional load on increasingly congested home networks that, if not managed proactively, could lead to significant quality of experience (QoE) issues.
While the data used per day varied by only 2.1GB, home networks get busier as the week progresses hitting a peak usage of 16.8GB on Sundays. When comparing the second half of 2021 to the second half of 2022, Fridays have seen the highest growth in usage with a huge increase of 26% suggesting that consumers might be starting their weekends earlier and streaming that latest data-rich 4K blockbuster movie.
Tune in to next month's Plume IQ as we continue our three-part series on network usage and examine the growth of neighboring WiFi networks and their impact on interference.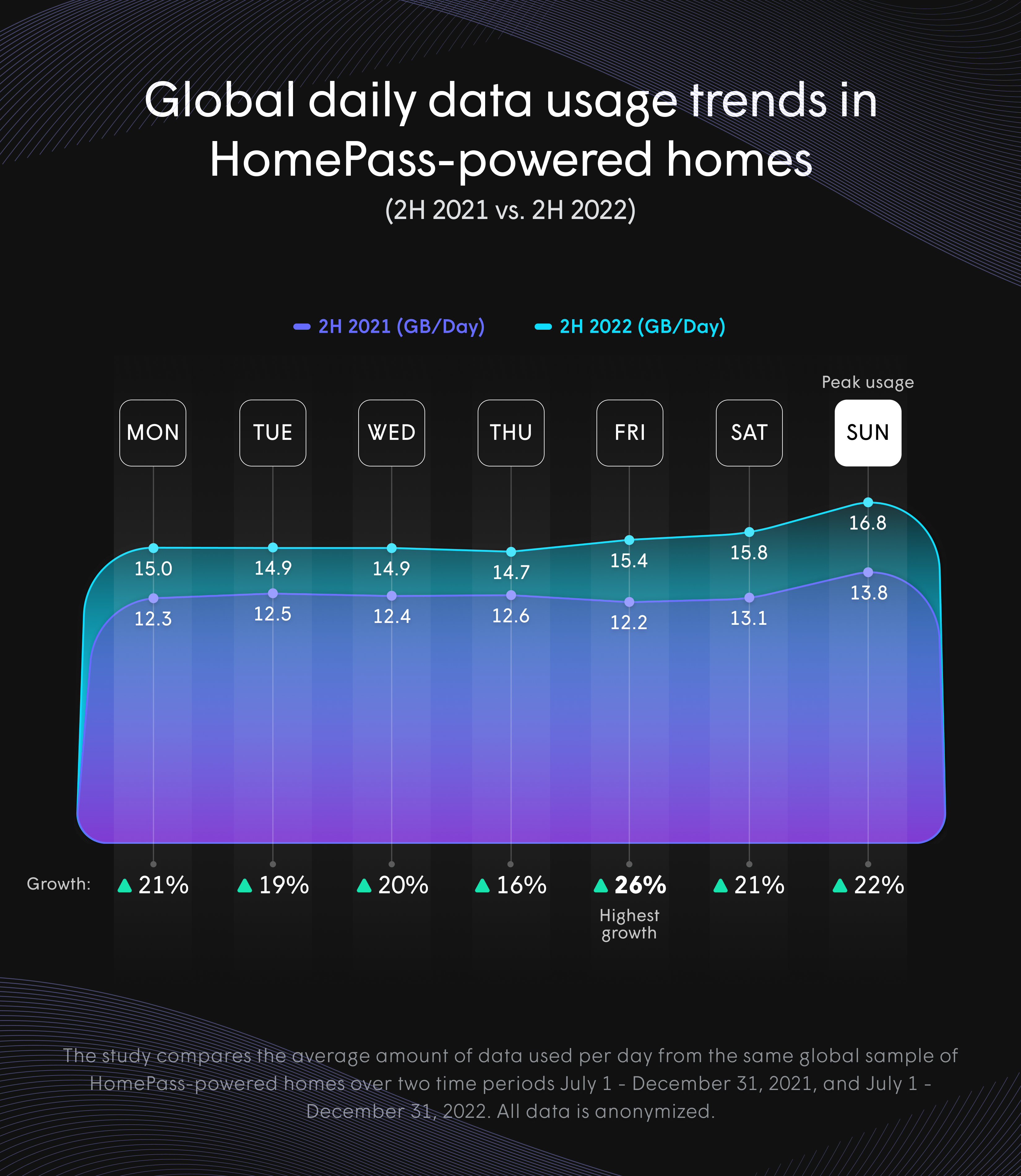 Other Plume news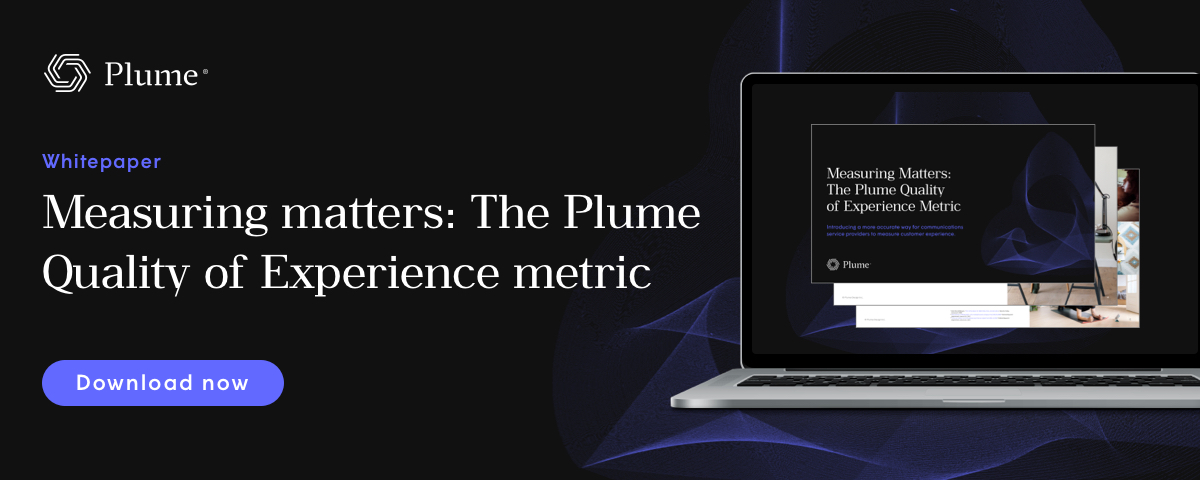 Whitepaper: Break from conventional QoS
In today's hyper-connected environments, using a conventional Quality of Service (QoS) metric is inadequate. Plume's Quality of Experience (QoE) metric is a measure of connection quality that captures the customer's actual experience in their home or small business. Our whitepaper defines how QoE can change a service provider's entire approach to delivering exceptional customer service.
Download now >

Finger on the pulse in Colorado
We're thrilled that Loveland Pulse—a community-owned internet and communications provider in Colorado, U.S.A.—has launched Adaptive WiFi+, a comprehensive WiFi service powered by Plume HomePass. This new solution leverages our smart home services suite to provide a fast, high-capacity, and reliable internet connection while ensuring comprehensive cyber-security protection, and advanced user and parental controls.
Read the press release >

Meet OpenSync, Cologne!
We've teamed up with our partner Deutsche Glasfaser to reveal the best practices from our successful deployment of a new WiFi service in Germany. Together, we'll demonstrate how an open-source, cloud-driven framework—OpenSync—is the only way to enable service providers to fully optimize in-home networks, and provide a platform for delivering and managing new, value-added services at speed and scale.
Learn more >
Beyond connectivity
Plume's founder and Chief Executive Officer, Fahri Diner, discusses our collaboration with Qualcomm Ventures, and how access to unparalleled intelligence and insights are enabling us to create digital experiences that extend beyond connectivity to enhance the lives of millions of consumers worldwide.
Read the case study >

News round-up
We were delighted to see that Nokia leveraged insights from our Plume IQ Smart Home Market Report in their recent article, highlighting how smart homes are increasingly central to our lives.
Read the article >
Mobile Europe discussed our collaboration with Comcast, RDK, and OpenSync which has contributed to the creation of a new and innovative open-source WiFi software management component for RDK for Broadband (RDK-B).
Read the article >
Light Reading highlighted the world's first set-top box (STB) to be powered by Android TV and integrated with both OpenSync and Plume's SaaS Experience Platform.
Read the article >